Services and Training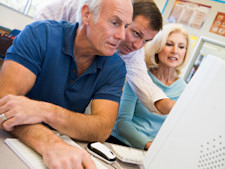 Brian Dirsmith and Associates specializes in support services and training for home and small office computer systems.
Aside from personalized, individual instruction in your own home or office, we can prepare illustrated and customized tip sheets outlines for most products, with clear, easy-to-understand information about tasks that you need to know.
Following is a partial list of products and technologies supported:
Wireless/"wifi"
Home/Office networking
DSL/broadband hookups
Internet/email programs (Safari, Firefox, Internet Explorer, Outlook, AOL)
iTunes, iPhone, iPod, AppleTV and data synchronization
Dual operating system computers (such as Parallels or BootCamp)
Backup strategies, both local and remote "cloud-based" solutions
Telecommuting/remote computing solutions
Virus and malware recovery
FileMaker Pro
Microsoft Office and other productivity suites
Quicken and QuickBooks
Hassle-free training
At Brian Dirsmith and Associates, we don't talk down to you or expect you to know and understand the latest technical jargon. We have worked with everyone from kids to retirees, and we are known for our patience and for communicating in terms each individual client can understand. Our approach to learning not only makes our clients succeed, but they feel good about what they have learned as well.
Purchase guidance
Are you unsure of what computer products to buy? Did you ever purchase the wrong computer product? It happens all the time! The person trying to get the best equipment and software for his or her home, family, or office often is no match for smooth-talking techno-speak artists.
Brian Dirsmith and Associates will assess your needs, read the fine print and make sure what you buy is what you need.
Finally, we'll help you set up your new equipment.